This year, the Hollywood Reporter described our partnership with Christopher Kennedy and his Modernism Week Show House as the "number one must-see event" of Modernism Week! We were thrilled to fill the home – owned by social media maven Kelly Golightly – with furniture, wallpaper and décor to create a sleek and fun Palm Springs oasis.
Scores of notable designers came together to design each room in the 6,500 square-foot home, the result of which was a true paradise in the Andreas Hills! Christopher Kennedy, Barclay Butera, Kelli Ellis and Sarah Sherman Samuel transformed our pieces into rooms that were nothing short of breathtaking.
"I guess it was Fate I found my way to Palm Springs, which is a hotbed of mid-century architecture," Kennedy said. "I'm definitely contemporary, but never cold. I like to mix in pieces from every decade, and I definitely love color." 
This dining room was bursting with color, and we were excited to show off our table settings, décor and white lacquer buffet in Kennedy's modern design.
"I do love a dining room, because I am kind of old school," Kennedy said. "I believe in manners, tradition and a family sitting down to dinner together, so it was very fun to do the dining room."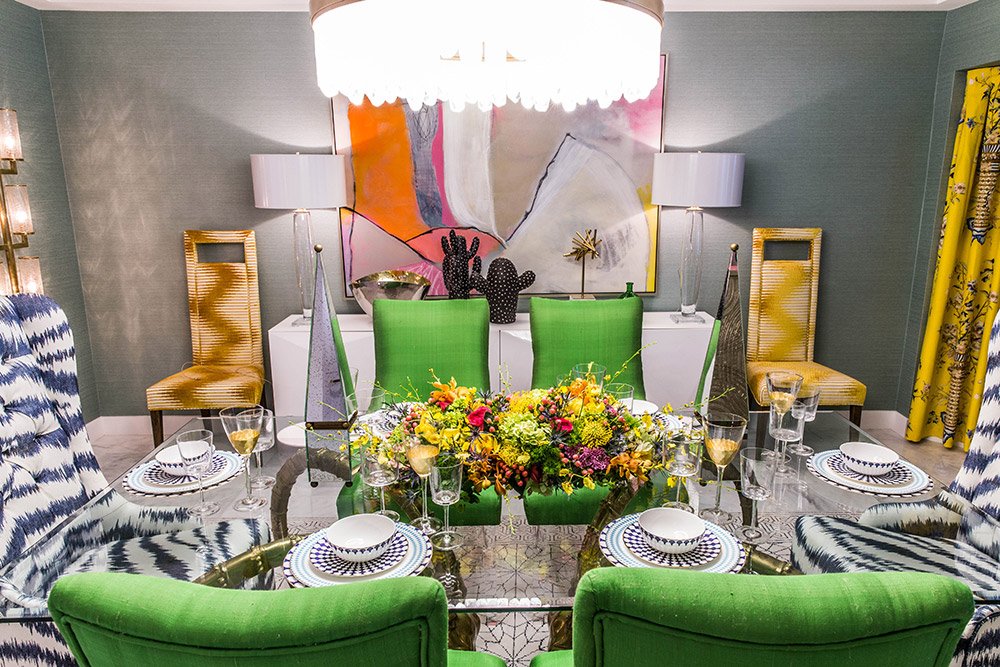 Classic elegance rang confident in the living room with a plush sectional surrounded by gold touches and bold lighting. Mid-century notes mixed with modern flair gave the home a cozy yet updated feeling!
"I think something mid-century is always going to be in style" Kennedy said. "It can transform a very modern interior; it can transform a stuffy interior. You take one contemporary piece, maybe one 1960s chair or lamp, and it can definitely transform your space."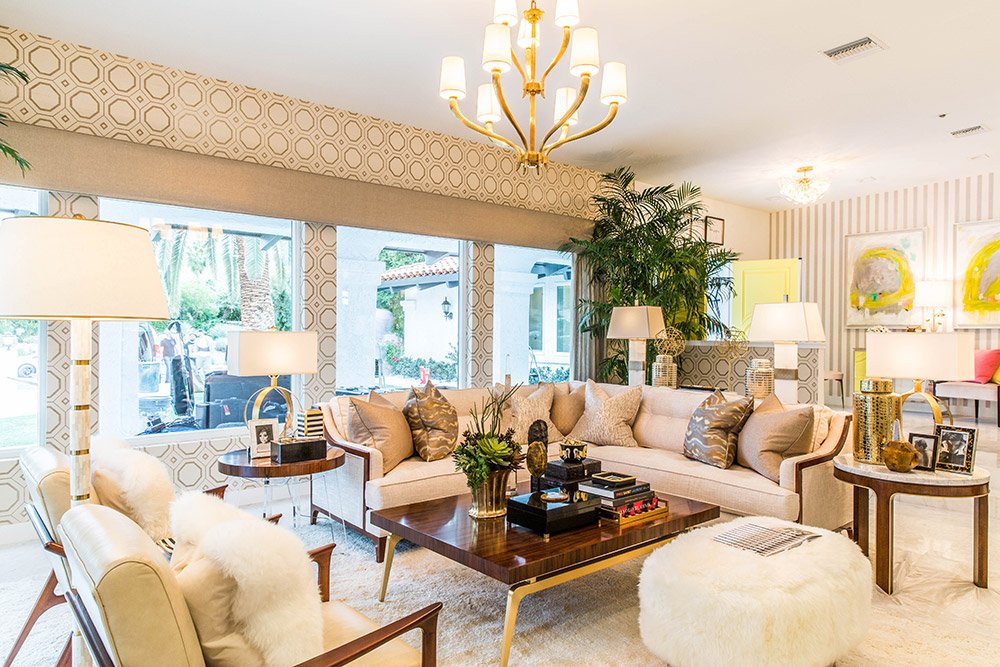 The laundry room, designed by Rachel Cannon, took everyone's breath away with its bold color choices and punchy patterns. Our fun lighting gave the space a modern touch with a bit of neutrality to balance it out.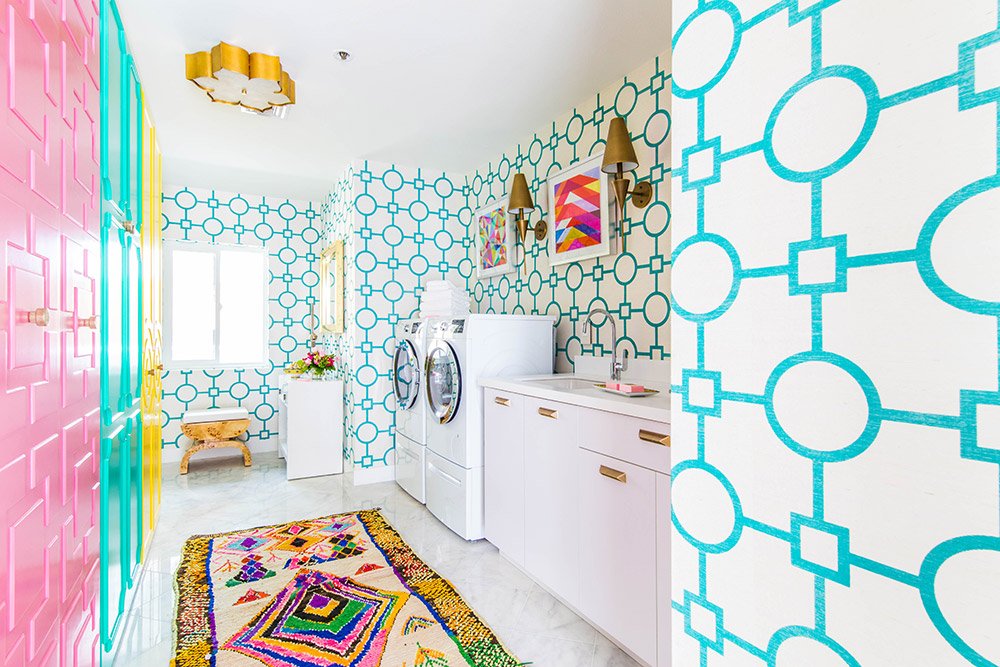 Kelli Ellis created a glamorous kitchen design, making made our pieces shine with custom upholstery on the bar stools and a fun chandelier by Currey & Company, which she hung upside down for a fresh look!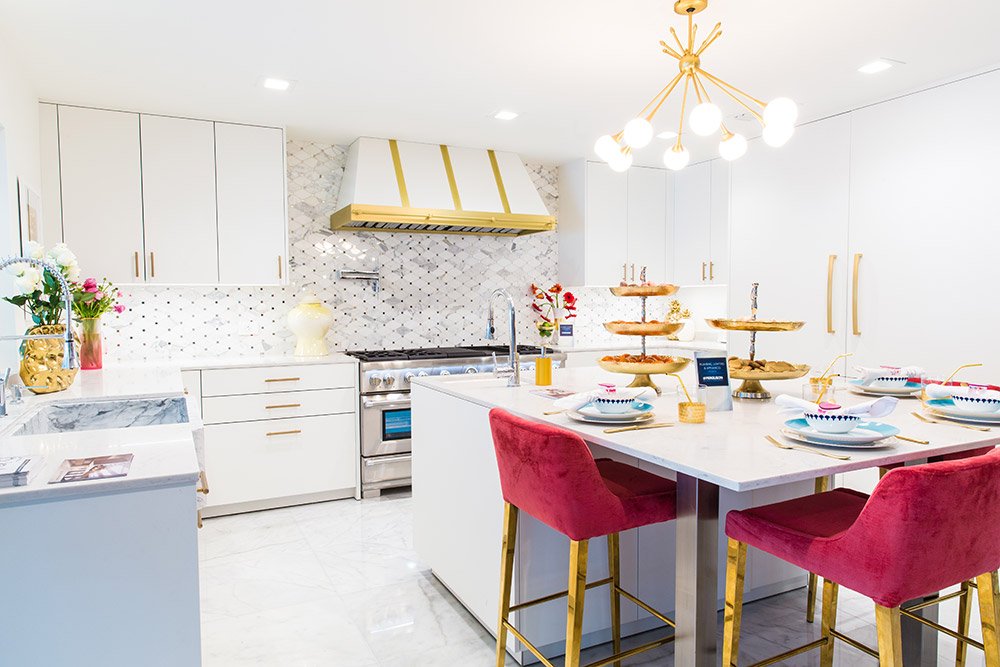 Every room beamed with style, color and Palm Springs flair! Now, it's time to take this inspiration and incorporate a piece of it into your own.