Whenever I'm on the hunt for a Christmas gift for my stylish friends I always make sure I'm up to speed on what's trending. They care just as much about the look as the functionality of the gift and it can't be last season's color!
Our 2017 gift guide for the trendsetter includes fabrics, colors and styles that are Pinterest worthy and are bound to be their favorite thing under the tree. Shop the looks below for the freshest ideas in home décor and inspiration for gifts galore!
10 Gift Ideas for Trendsetters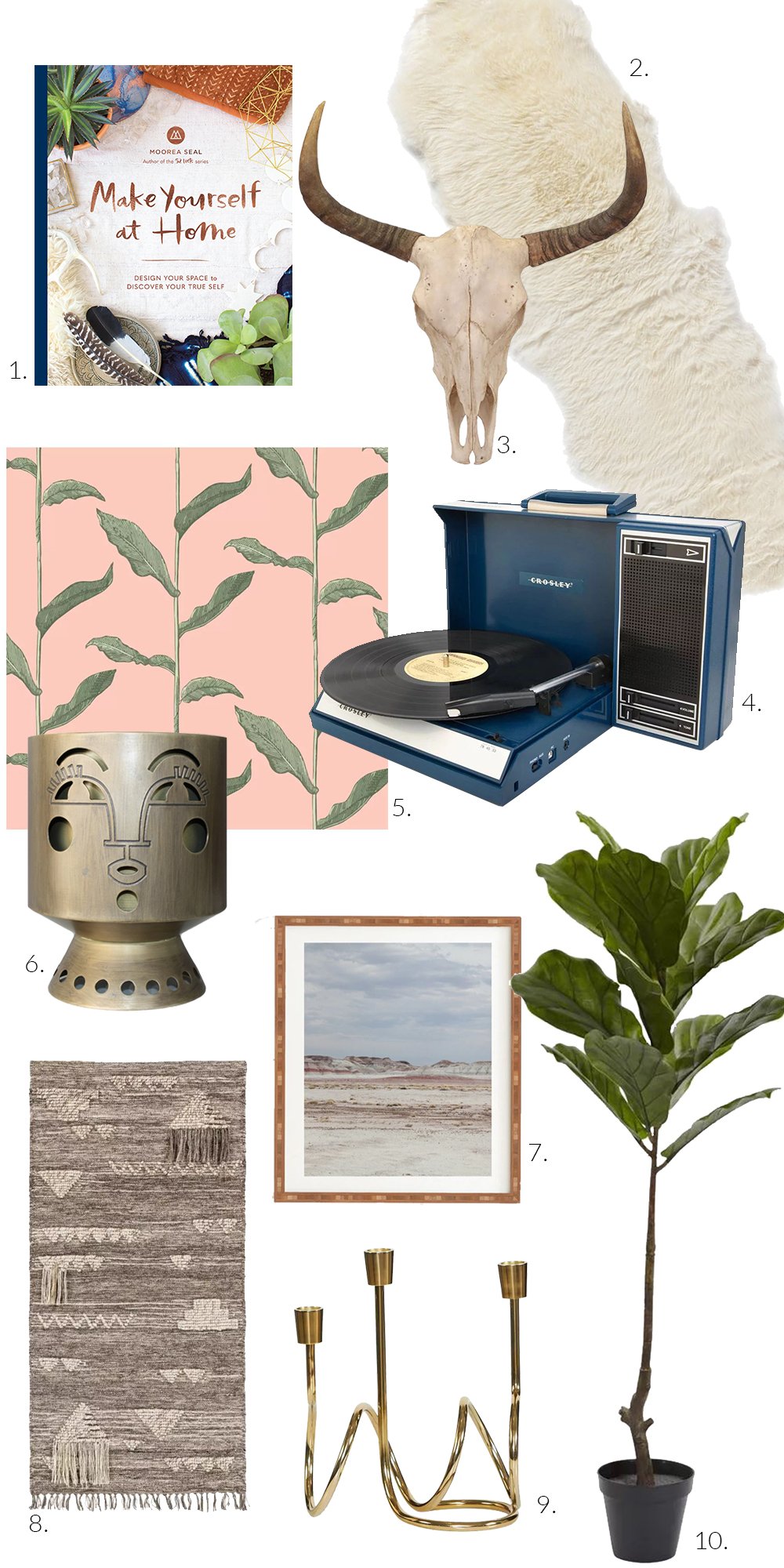 Moorea Seal has come out with her 3rd book this fall all about the exploration of making a house a home. My favorite part is the stunning imagery from style influencers across the country sharing how they incorporate their personal style into their own homes – it's a Pinterest board in real life!
Cozy up this winter with a plush area rug that uses the sheepskin trend! Choose the size that fits your space best or order a few small ones to throw over a desk chair, sofa or at the foot of your bed.
Cow skulls are making their way back into the home to add a classic touch of rustic décor. Hang this one above your mantle, bed or in a gallery wall collection of your other pieces of art.
Jam out in style with a colorful record player to fit your aesthetic. This one can fold up for easily transporting and looks great on a bookshelf paired with your other eclectic finds.
Millennial pink hasn't gone away! We're pairing it with the newest trend – removable wallpaper! This peel and stick solution to blank walls will transform your rental or indecisive mind. Having used it myself, I can say that it really doesn't damage your walls, takes very little time and makes a big impact!
Need gift ideas someone with a green thumb? This decorative planter will add character to their ever-growing plant collection. Even better, pick up a Philodendron plant from a local nursery to complete the gift!
Dream of summertime all year long with this ocean print that is the perfect pop of color and spunk whether you live by the beach or dream of it!
Tapestries incorporate the eco-friendly trend that is everywhere right now! Whether it's a macramé cotton or wool piece they add style to your home with sustainable materials. Pro tip: Use one to attractively cover your unsightly electrical box!
This gold candelabra by Selamat is the perfect centerpiece for a date night dinner or a family brunch. There's nothing more stunning than lush green garland with gold candelabra's and white tapered candles to make a stunning tablescape!
If there's one trend that everyone loves it's a good fiddle leaf fig tree. Skip the finicky care instructions and choose our faux option. This brings the greenery inside, transforming your home into an oasis that stays lush & beautiful, year-round.
For more trending styles and pieces shop our collection of gift guides here.