We all have that friend/spouse/colleague that is tech obsessed and when it comes to Christmas shopping you get stuck in a rut because they seem to have everything already! Don't despair; we have curated a collection of goodies that we are sure the tech obsessed man is missing at least one of.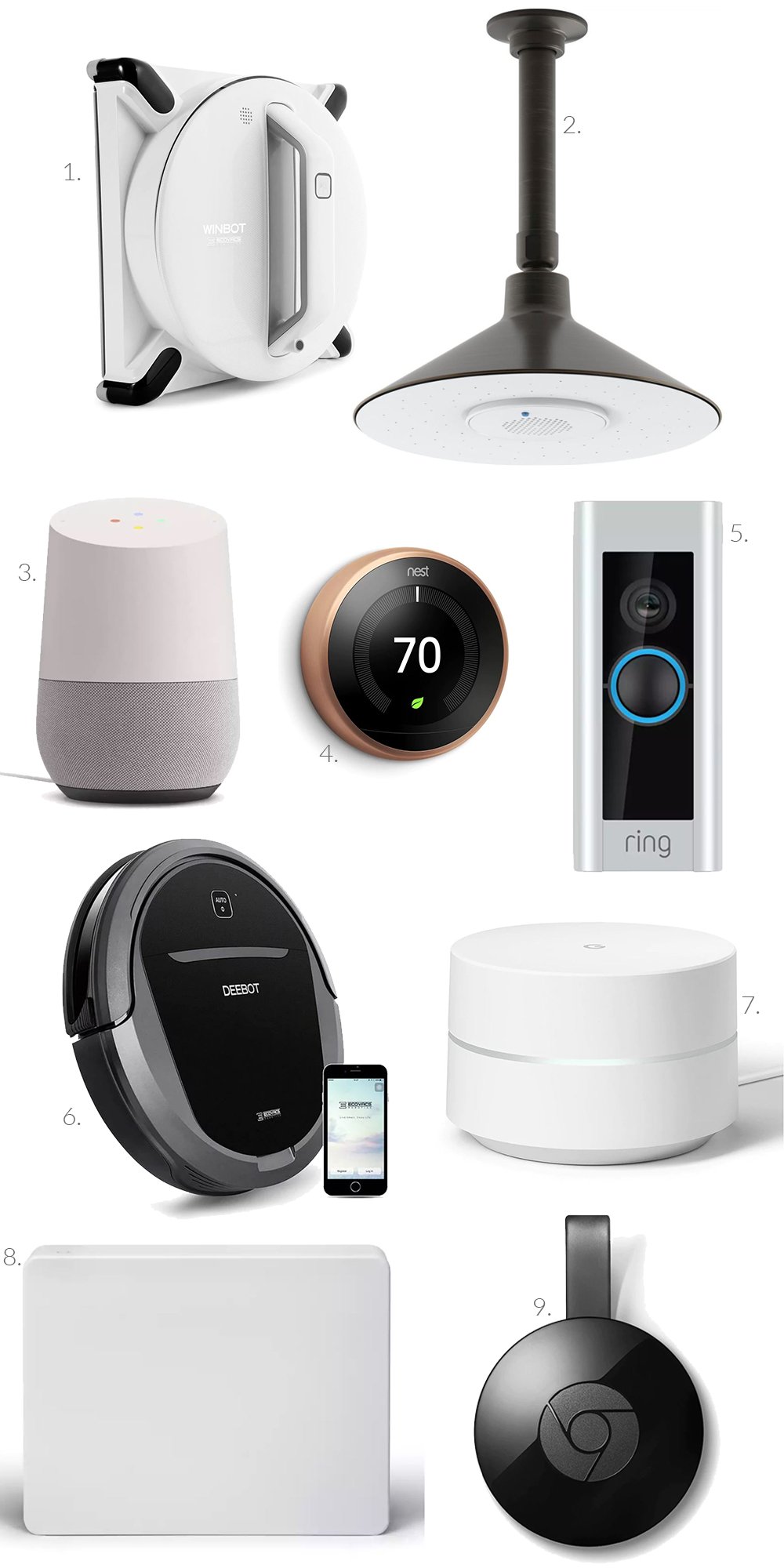 9 Gift Ideas for Techies
Automate the cleaning process and reach the top of those tall windows with this robotic window cleaner. It's quiet, chooses the most efficient cleaning path and will safely clean even the tallest windows!
Transform your dreary Monday mornings with this rainhead that doubles down as a speaker. The Bluetooth enabled speaker will sync with your device to deliver high-quality sounds amidst your steam. Bonus: It comes in multiple finishes to match your bathroom design!
Give the gift of a personal assistant with Google Home! The voice activated speaker will help you put items on your shopping list or set a timer, answer questions, tell you the weather, play music and more! What's my favorite command? Telling it to turn on the TV when I can't find the remote!
The Nest isn't a new arrival to the tech industry but a fan favorite that any tech-savvy guru would love! Choose between a white, black or copper finish and outfit your home with the best in temperature control.
What if you could see, hear and speak to the person who just rang your doorbell? Now you can with the Ring Video Doorbell Pro – perfect for the traveler, or couch bum.
Make sweeping a task of the past with this robotic vacuum cleaner. In addition to being a fun toy for your cats, it can clean up dirt, pollen, dust and dander all while silently outputting fresh air.
For the techie who has it all finish off their Google suite with Google Wifi! It seamlessly works with your modem and internet provider so you can catch up on all your daily activities with ease. Have a large home? Buy a few to fully cover the space!
Automate your home's temperature, locks and lighting with the Iris Smart Hub. Whether you want your home to be the perfect 70 degrees when you get home or you don't want to get out of bed to turn the lights off – this is the ultimate gift!
Everyone has their favorite TV shows and with the Google Chromecast you can stream movies, music, sports, TV shows and more with a simple hookup. Its surround sound support will transport you to your own private movie theater experience in no time
Need more ideas? Shop our Smart Home category to find that perfect gift here.