Thanksgiving is over and we're ready to kick off the holidays with shopping sprees galore! What better way to start off our Gift Guide series than with talking about our favorite little ones and their wish lists. If you have your own kids, nieces or nephews and are unsure where to start, we are here to help.
Whether it's their new favorite hide-out spot to their favorite play toy we've got you covered and you'll be their favorite when all the wrapping is taken off. They may be small, but their thoughts and dreams are large in creativity and we hope that these gifts will inspire you to think out the box, from whimsy to traditional, these gifts won't disappoint.
See below for our nine favorite gift items for the special young one in your life.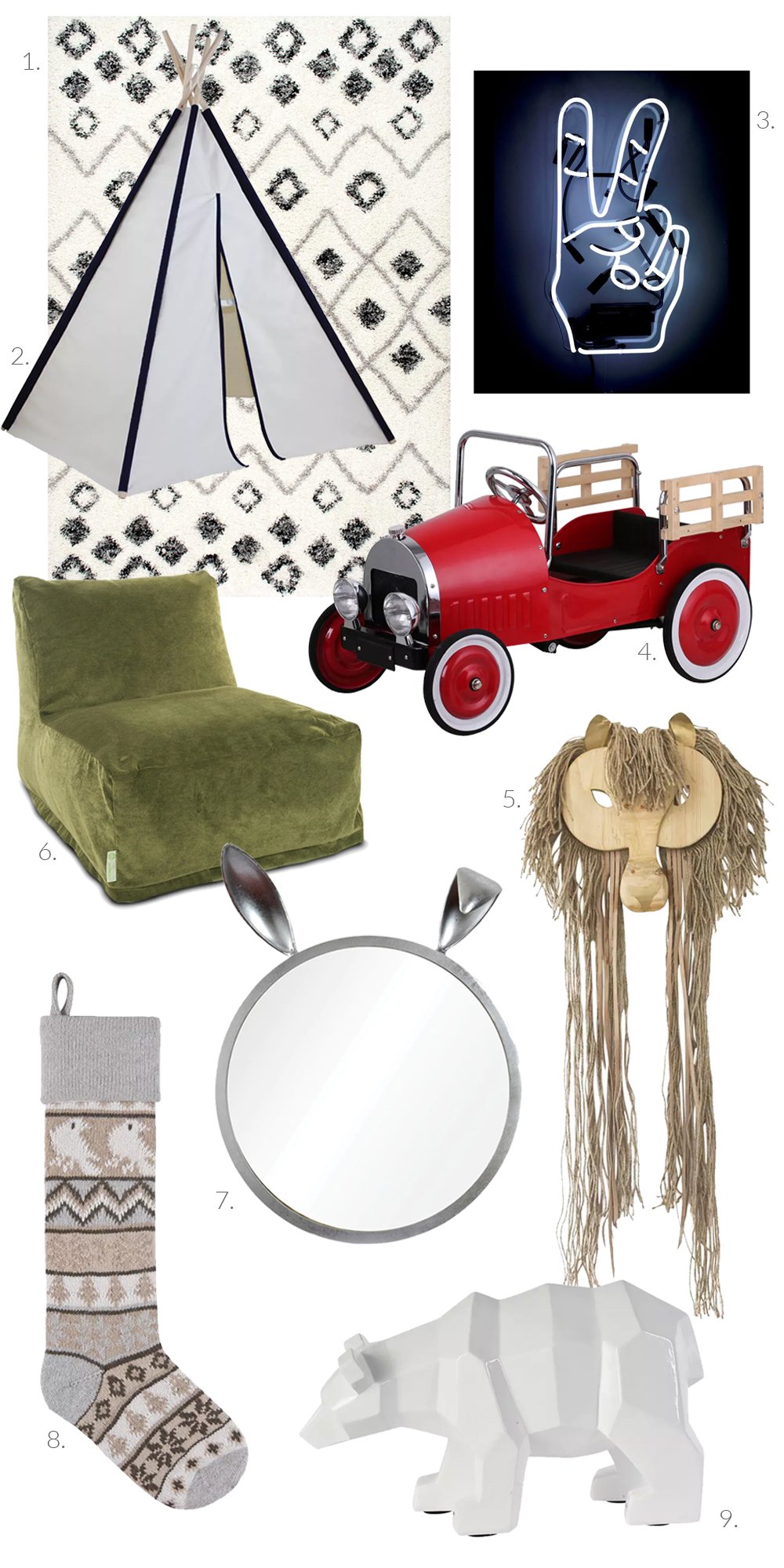 9 Holiday Gift Ideas for Kids
This shaggy kids' rug is the perfect addition any nursery, bedroom, or playroom. Soft enough to play on, but durable enough to last through the mess.
Perfect for any child's playroom, this teepee gives them with their own little hideaway. It quickly dismantles, so there's nowhere you can't take this teepee!
Neon Signs are perfect for your kid's playroom. Light up your space with this peace sign, to make a cool statement that the older kids will love.
This adorable pedal car will help create new memories this Christmas. Your child can pedal down the street with his favorite toys stored in the rear cubby – get your camera ready!
Wes the Lion is the cutest accessory to add to that blank space on your nursery wall. A cheerful addition to any interior, you can feel brave with Wes the Lion in your den!
Add comfort and functionality to your playroom or game room with this chair lounger. The softness of a bean bag stays sturdy so you won't have to give up the design of modern furniture.
Obsessed with the whimsy of this playful mirror? The expressive bunny ears turn every reflection into a quirky character!
Your kid's first stocking is the start of years of memories. This classic knit bird stocking will be the perfect one to accompany your child in the upcoming years… it will never go out of style!
This polar bear is the perfect modern touch to decorate any kid's space during the holidays and is perfect for the animal lovers you're buying for.
Still looking for that perfect gift? Don't miss our beautiful and comprehensive online guide for gifts at every price point, for women, men and more!