I recently talked about how the kitchen has become the hub of the home; the place where everyone tends to gather because it's so central to everyday life. And, since it's so important, it really does make a big difference when it feels clean and organized.
Well, with the time for spring cleaning just around the corner, I thought it would be good to talk about decluttering your kitchen with confidence, as well as how to keep your kitchen looking super chic – all in two simple steps.
STEP 1: DECLUTTERING YOUR KITCHEN
You can start to declutter by going through what you've got and making decisions about what you can't live without. It's true – this can be a long, tedious and even challenging process, but it really is the best way to start organizing. Even if you remove just one thing, that's one less thing you have to worry about.
Set aside your favorite dishes, glasses, antiques, and souvenirs, and think about how you can use them as décor for a more personal look instead of store-bought knickknacks. Displaying my most cherished possessions brings me joy every time I walk into the kitchen, while also making me feel like I'm not wasting space.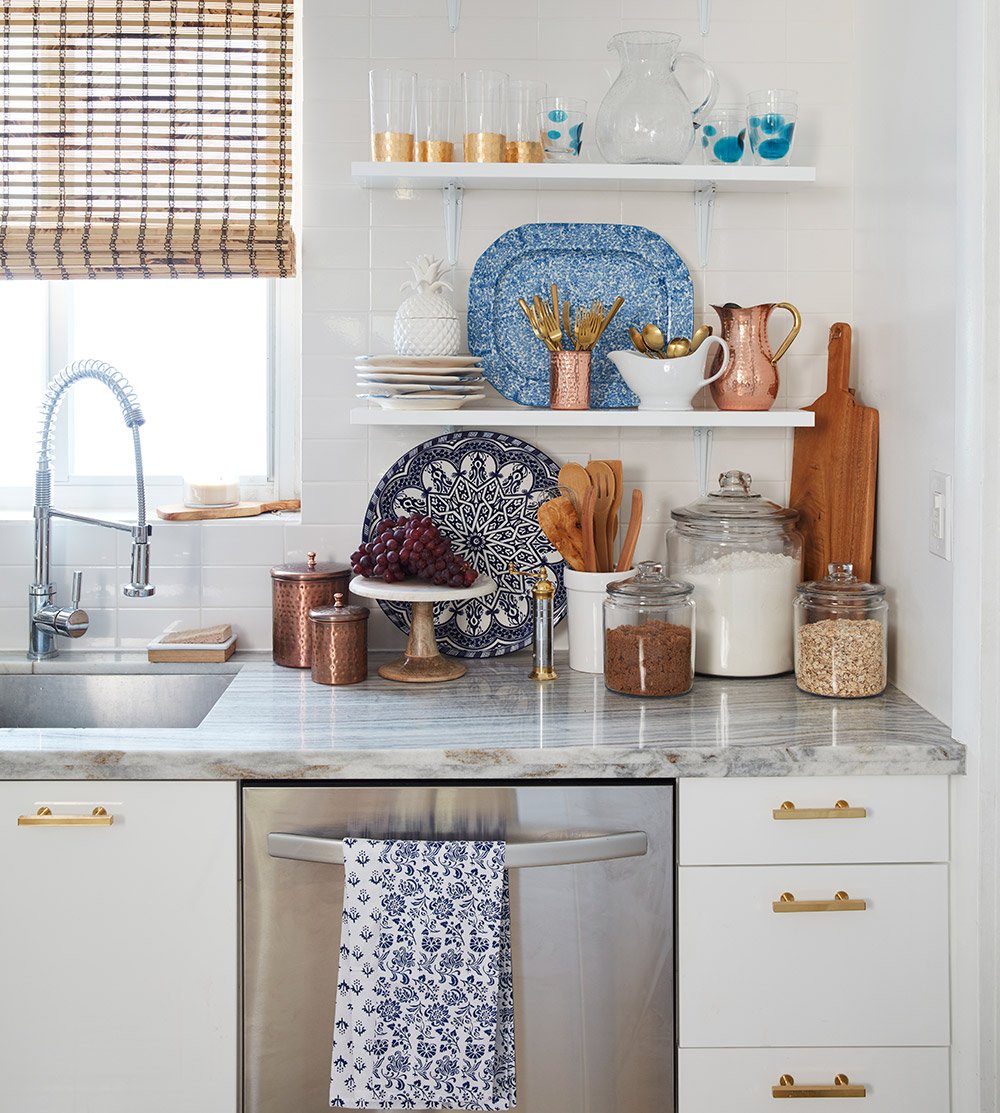 STEP 2: GET CREATIVE
The next step is to get creative with your existing pieces and start to think about storage solutions. Clear jars are perfect to store flour, sugar, oats and, of course, cookies. Opaque jars are great to store items that aren't as pretty or used every day like straws, tea bags, etc. Pitchers and vases can double as utensil storage, and trays and cake stands make great display areas when not in use.
In general, a unified theme can promote a less cluttered look. I like copper, marble, and wood, so when I'm shopping for kitchen items I tend to stick to those materials. That way, no matter how much I display, it always looks cohesive.
Now it's your turn to clean for spring and give your kitchen a fresh feel – make sure to check out our favorite storage solutions for more a confident kitchen!